Join us for a week of dancing with nature in the beautiful setting of Forge Neuve, the Green Cathedral at Ecolonie.
This course combines conscious dance, shamanic techniques, ceremony and the power of being in nature. We will meet Gaia as archetypal personification of Earth, dance with her and invite her to dance through us.
Gaia theory, as introduced by James Lovelock, proposes that the Earth, with all organisms and ecosystems, is a complex but self-regulating system that always moves towards optimal conditions for life. Yet, the Earth and her inhabitants are struggling.
Dancing in and with nature is a way to make connections between the human and other-than-human, and step into the natural wisdom of elements and the cycles. It opens a way to move (with) your concerns for the planet, express your care, grief, and longing. Nature as a guide can teach us about harmony, empowerment, and self-regulation in ourselves and in the wider collective.
In this course you will:
meet and resource your inner dancer
immerse yourself in nature
learn to dance with plants, trees, elements, and the spirits
strengthen your connection to Gaia, and let her dance through you
optional: spending a ceremonial night alone in nature, in the safe container of Forge Neuve, to ask for vision and guidance.
Furthermore, two elements in the course program are the lecture about ECOlonie's vision and working two hours one afternoon in order to contribute to the ECOlonie community and especially to experience it from the inside. Examples of those activities are: helping in our vegetable, fruit or herb garden, doing the dishes, the kitchen.
You can participate as part of your summer holidays or as a reflective retreat. All are welcome, and you don't need any previous dance or shamanic experience to participate.
This first Wild Soul retreat embodies the theory and practices in my book Dancing in the Muddy Temple, a Moving Spirituality of Land and Body, and my Embodied Spirituality Masterclasses.
Dance, nature, spirituality, and healing form the heart and soul of my work and I can't wait to dive in and share these modalities with you.
Good to Know
As a visionary community, Ecolonie brings sustainability and care for the earth into concrete practice. Therefore, all guests are asked to use biodegradable products, eat organically if you prepare your own food, don't use cell phones and other blue-tooth devices, observe a strict no-smoking policy and agree to silence in the evening, Also, you will be asked to volunteer 2 hours of your time to the ECOlonie community by working in the garden or in the kitchen, and attending the visionary presentation about Ecolonie Community.
Please note
This course will be taught in English and can be translated into Dutch when needed.
You register directly at Ecolonie via the button, where you also book your accommodation. However, please also sign up for Eline's email list via this link so she can send you further details in due course.
What others say
"Eline's guidance brought fresh perspectives to familiar landscapes, and I found new ways to integrate the somatic work into a wider range of settings, tasks and existing schedules. Overall, the experience was surprisingly intense, building powerful somatic awareness through the cumulative power of small-scale actions. Refreshing. Enlivening. Joyful." - Ann
"Eline is one of those rare individuals who has done the work in both an academic and spiritual capacity. She presents herself with integrity and authenticity." - Charlie, Lucid Dream Teacher
"Eline is a fantastically magical facilitator for mindful spiritual and movement practice combining vision with creativity." - Yna
---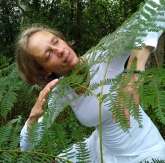 Dates:
From 26 august to 2 september 2023
Booking of this activity has closed
Price: € 250.00 per person (5 mornings), € 330 per person when you also want to join the ceremonial night (5 mornings & 2 afternoons).
Please indicate clearly when booking if you also want to join the night vision quest.
Arrival: sathurday august 26
Introduction: Sunday from 4 to 5 p.m.
Course times:
Monday through Friday: from 9:30 a.m. to 12:30 p.m.
Tuesday and Friday afternoon: 14.30 to 16.30
(for those who want to join the night vision quest)
Tools (bring your own): Notebook and pen, warm outdoor and rain clothing. Sleeping bag and mat if you want to join the night vision quest.