Book, especially now, without financial risk for a sustainable and safe holiday close to home!
Read more about our coronavirus policy here
Is this the inspiring meeting place you're looking for? Who knows! We heartily invite you to get to know us. Please feel free to come inside and take a look around. Your curiosity will surely be well-rewarded. And… one day we might meet in person at ECOlonie!
Kind regards,
The ECOlonie residents
Holiday
Volunteering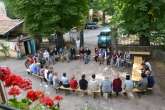 Community & Vision
Projects & Products